Zeru Benefits
We help you spur social engagement on Facebook and make social media marketing work for your brand.
Fastest Delivery

Immediate results and no delays; Zeru offers fast deliveries on Facebook likes!

Professional Support

If you have questions, we have answers. Ask us for support and we'll be there for you 24/7.

Cancel anytime

Be in touch with us if you do consider cancelling our services.

High Quality profiles

Facebook page likes from an authentic-looking audience to build your brand's image.

Free Trial offer

Try it for free before making a commitment. We know you'll love our services!

Experts in Social media

We can make your brand grow through social media engagement that matters.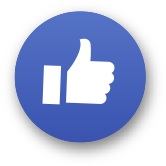 Why Zeru Is the Best to Buy Facebook Page Likes
When you buy Facebook page likes from us, you're adding value to your brand.
Organic Facebook followers want to see that you've actively engaged real people with your brand and that you're making a difference in the social media environment. Zeru allows you to cut to the chase and create an air of confidence around your brand without having to nurture organic followers through those initial stages of building an image that social media followers feel they can trust.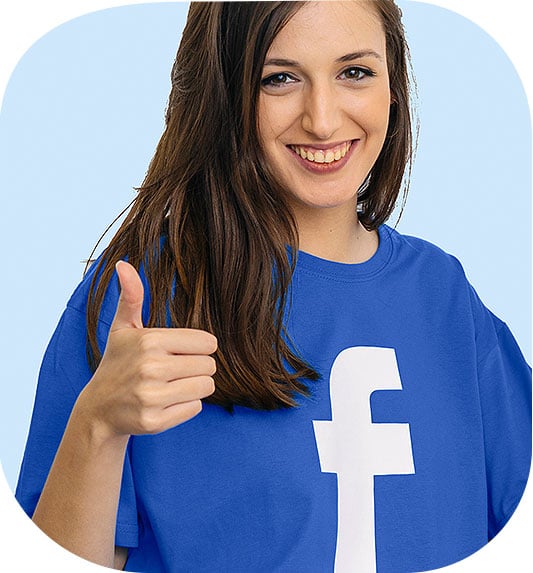 Buy Facebook Page Likes and Nurture Your Brand's Image
A new brand or a brand that's desperately in need of an overhaul will have to create a presence on Facebook and grow itself through social media.
Social media is definitely where it's at in terms of building a brand. Fledgling companies often must start from the ground up and build their social media presence through struggles and hard knocks. But if you buy Facebook page likes in order to create the appearance of a strong social engagement with your brand, the process of creating a name for yourself on Facebook can proceed much more quickly. More

Frequently Asked Questions
1

Will I get in trouble if I buy Facebook page likes?

No. We work with hundreds of clients every day and we have never heard of any of them having problems with Facebook after they buy Facebook page likes. Our team at Zeru is made up of experts in the social media industry and we carefully vet out Facebook followers who are willing to "like" your brand's posts and comments just like an organic user would.

2

Can I really build my authentic social engagement on my Facebook page by buying Facebook likes?

Of course, you can! The Bandwagon Effect is powerful, and when you buy Facebook page likes, the rest of the followers on your page will respond by liking your posts more often. We offer a free trial period in order to prove to you that the effects are legitimate and powerful. We know you'll love our services after you give them a try! Facebook likes offer a powerful way of encouraging potential customers to have confidence in your brand. As organic users begin to like your brand, the public visibility will snowball into even more likes.

3

Are the Facebook likes permanent?



Yes. The likes are permanent and they look just like likes that are posted by organic followers.

4

Do you offer refunds if social engagement does not go up for my brand?

Absolutely. When you buy Facebook page likes, your social engagement automatically goes up, so we have no problem offering refunds if you do not receive the guaranteed number of Facebook likes or if the service was not provided as promised.

5

Are discounts available on bulk orders?



Yes, definitely! If you want to make a bulk order on Facebook likes, contact us directly for more information.

6

Is it worth the cost to buy Facebook page likes?

We have hundreds of clients every day who seek out our services because our services provide a lot of value to our customers. When you buy Facebook page likes, you're investing in your brand in a powerful way. We're so sure that you'll love our services that we provide a free trial so that you can give it a test run and see what you think for yourself.

Trusted by
5,000+

Customers

Facebook Page Likes

Buy Facebook likes today and get 100% guaranteed real likes, FAST! #1 Best Site for Facebook Likes. Don't miss the Big Discount today on our BEST...

4.99

USD

https://zeru.com/buy-facebook-page-likes

Astonishing, this worked perfectly right for me
2022-02-08
Astonishing, this worked perfectly right for me
@Amirah


Highly customer focused, the service was through, highly recommend it
2022-02-08
Highly customer focused, the service was through, highly recommend it
@Hayden


Eu aconselharia apostar nos likes e views, especialmente pro facebook
2022-02-08
Eu aconselharia apostar nos likes e views, especialmente pro facebook
@Elyse


I'm crazy happy with the public that came in, social media really depends on strategy
2022-02-08
I'm crazy happy with the public that came in, social media really depends on strategy
@Selina


Astonishing, this worked perfectly right for me
@Amirah


Highly customer focused, the service was through, highly recommend it
@Hayden


Eu aconselharia apostar nos likes e views, especialmente pro facebook
@Elyse


I'm crazy happy with the public that came in, social media really depends on strategy
@Selina


I'm really happy with the results my page had so far
@Avery


The likes were were the best thing I did on my page this year, the rate growth was crazy
@Annabella Mooney


My company was looking for a trustable place to buy social media material
@Jaxon C


This helped my page much more than I thought it would. It was worth the investment, and it wasn't that big either
@Cristopher Jones


Much obligated. Great to reach a basic number of likes on your page
@Lorenzo


I've bought a lot of stuff from Zeru, everything is great, the facebook likes are pretty fast and it's a simple process really
@Zion


Zeru ya es parte de mi equipo, lo usamos en todas nuestras redes sociales.
@Rosie Lloyd


Five stars for the delivery and 5 stars for the overall performance of the profiles
@Adina Simmons


I didn't find anywhere else that sold page likes, thanks god they do it here.
@Darryl Sykes


The YoutTube subscribers arrived faster than other things I bought here.
@Wormald


the profiles liking the pages are creative
@Ayaz Huang


i'm here to buy something else, keep up the good work!
@Lenny


This is the only website I buy frequently. They do an incredible job.
@Gage Rush


I'm coming back for the likes again.
@Eugene


No questions asked, zeru is the best thing that happened to my Facebook Page.
@Asmaa Reid


Zeru rocks.
@Qasim Alfaro


Estou constantemente mantendo a página, então é um pouco chato. Obrigado por me dar uma mão.
@Evelyn Davenport


Hopefully, I'll never have to buy page likes again. Keep up the great work.
@Ainsley


This is good enough if you're looking to keep up your position in Facebook page ranks.
@Lyla-Rose Holden


The prices are good enough for me :) especially for a Facebook page.
@Hammad


I hope they have new features, I like the Face page likes.
@Amira Ventura


I'm crazy about the followers I received, they're the best really!
@Raisa Fritz


I'm having fun with my Facebook page, it's doing wonders to my new social media.
@Rocky Dunne


The pages likes are basically gold tickets to the big league of the search page.
@Darryl


This is a miracle problem solver for anyone that has a Facebook page, there comes a time when it just stops or slow down until it stops and this can give you a push in the right direction.
@Pierre Gaines


Great for meme pages, I tried it and it got me out of that plateau and into new blood signing in and I don't mean the bought kind.
@Raymond


Now I can spend all my energy into making my content funny.
@Carson Hahn


10 out of 10 work. Zeru is always doing right by my page, I hate to deal with Facebook so this makes my life much MUCH easier.
@Madilynn Pennington


I appreciate the likes, they were really good for my cause, I'm seeing a lot of new people joining in.
@Nathan Morrow


My page is doing better than I expected now and my content is getting more likes and is being shared now.
@Phillip Daugherty


Very interesting profiles, they have here! It's definitely worthy looking at.
@Moriah Gordon


They loaded my page with the likes I bought and I climbedthe ranks a little bit higher then before!
@Eileen Maynard


It's only fair I leave a review too. 5 stars. The likers were very transparent and unique
@Paul Suarez


I'm ranking higher on the search engines.
@Jakobe Cannon


Thanks for the steady flow I'm seeing on my Facebook page.
@Marcus Herrera


Awesome for Facebook pages, the possibilities are endless
@Leah


My Facebook page has a better reputation now
@Laura Jacobs


I enjoy the prices here, very proper and you can easily regulate what you buy.
@Nyla Riggs


I lost count of how many times I bought likes here, I'm practically hoarding it now
@Bria Mcclain


Don't make it so cheap! I'm weak against cheap useful stuff, if I don't watch myself I'll buy likes and comments here every day.
@Justine Holloway


You'll get all the page likes and I'm expecting some myself this week, great for ranking
@Maci Freeman


For the amount of likes I bought was cheaper than it should be.
@Tristin Holt


The likes going in healed my problems away, good for business pages
@Jadyn Dorsey


My Face is so bright, I'm positive with all new the likes! It's good to bring in more business.
@Kamren Mack


Support system was very helpful to the people that runs my page.
@Koen Valencia


I thought I would have to wait much more time to get the number of likes I got
@Julien Zimmerman


That's a hundred more likes than I ever had before.
@Diamond Mathews


I want to buy a more sophisticated plan; I'm very satisfied with the one I bought for Instagram, can you reach out for me?
@Justice Horton


I was loading my page to see how I like it and the results impressed me, I checked the accounts out and they were active and legit.
@Cristal Osborn


The followers number went up! I can see my Facebook gaining weight and more legitimacy.
@Anabella Powell


I almost chicken out of buying here, good thing I didn't. Great work, I have nothing but praise.
@Wayne Parrish


Fantastic likers, well built characters for the profiles and innovative
@Lacey Orozco


Eye popping!
@Liliane Page


I'm buying here again, next week I'll buy too
@Ariella Bond


Eu tô tão feliz com minha pagina
@Kenneth Tapia


All it took to get better was a few likes.
@Maiza Padilla


OMG THIS IS EXACTLY WHAT I NEEDED.
@Diane Hobbss


Take a deep breath, do something, get paid
@Alan Hughes


The likes are really lit.
@Landen Kline


DOPE! This place has the best likes.
@Bo Rodriguez


This is so important to me.
@Amber Hensley


After buying here I'll hit the books and study all my options to get better at handling my page.
@Kaiya Blake


I have to admit, tis is a fair use.
@Aryanna Cervantes


I got my followers in no time!
@Marc Hodge


Hoje eu vou analisar os likes que eu recebi aqui.
@Amiya Singleton


We're all hyped about the new subscribers to my page.
@Clara Fritz


I'm buying the likes here and hitting the road
@Adan Gardner


Hold your horses! Is this price right?
@Heath Clay


I see how great the page likes are!
@Asa Conrad


I'm sorry I didn't take it seriously and thought this was a scam, they do honest work
@Juan Ochoa


If you buy anywhere else you'll just get a shitty product, so don't
@Stanley Sloan


I'm sure these will be a boon to my posts!
@Steve


I love how the likes didn't just rush all in, they came one by one
@Evans


Is this based on United States?
@Kamari Greene


The profiles have pictures and names
@Isaac Neal


I was surprised when I checked the facebook profile of one of the profiles that liked my posts
@Brady Morse


The likes last for a long time
@Jamie Acosta


I can't even imagine the effort that went into making these accounts real-like
@Zachariah Douglas


It takes a little time to arrive
@Jaylon Davis


The likes have a good quality
@Maren Vasquez


Step 1: buy Step 2: sit and watch the magic happen
@Felicity Cohen


I trust Zeru to always deliver the best to me
@Olive Briggs


This is crazy good!
@Raul Santana


Even if you don't have the knowledge needed for such a thing, you can research and even experiment since the prices are so low
@Freddy Navarro


Zeru won the internet award for best service in my opinion
@Jacqueline Burns


Considering the price I'll return soon for more likes
@Kayla Landry


Getting my likes here as soon as I post anything here became the norm
@Gavyn Villa


Very realistic
@Kareem Short


I can't wait to see the results on my page! So excited
@Valery Henderson


I think this is the best thing I bought here
@Jacey Ballard


I like to think that the likes are compelling people to comment more, like more my posts, so far it's been working
@Christine Duffy


Very adaptable!
@Milton Spence


It's exciting to see your page growing so fast!
@Mekhi Steele


I'll cherish every like I receive, this is helping so much
@Tessa Ferrell


My page is looking so much brighter!
@Colten Melton


Very charming
@Angeline Hooper


Previous

Next
Show more review
Write a Review