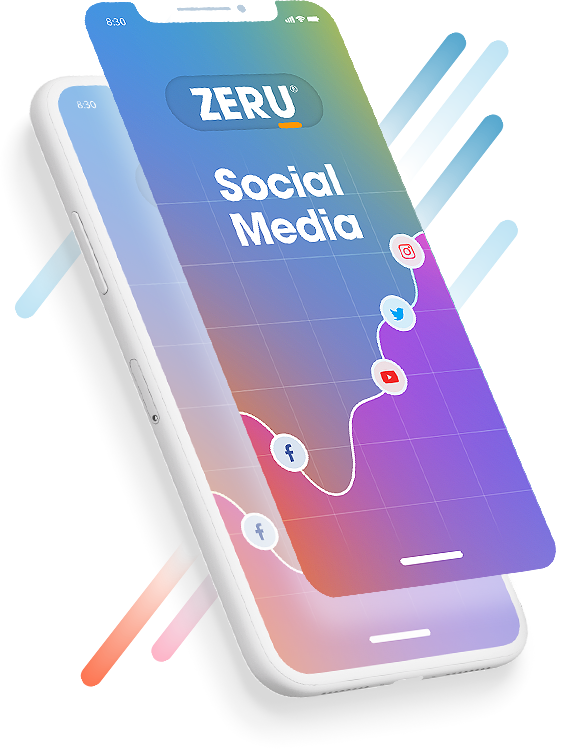 If you're ready to see results from your social media marketing efforts, Zeru can help! Attract new followers, boost social engagement, and see compelling results from your digital marketing efforts.
Zeru is all about social media! Our experts have years of experience working with social media to digitally market brands successfully. The use of social media as a marketing tool is essential for any brand that wants to succeed in today's competitive marketplace! The team at Zeru knows what kinds of challenges you face whether you have an existing brand that needs to be enhanced through social media marketing or a new brand that needs buttressing in order to become successful. Our customers choose us because we're the real deal! We know how to give your brand life on Facebook, Twitter, YouTube, or Instagram.
Without followers on your social media platforms it'll be hard to succeed. Getting new followers can be almost impossible unless you already have a substantial following to begin with. The key to success on any social media platform is to build your following and then work on engagement. But this is easier said than done! How do you get followers if you don't already have followers? It's a catch-22. People hire Zeru to solve this problem and we're experienced at making it happen. You need followers? We have a cache of excellent profiles to ensure that your Facebook, Instagram, Twitter, or YouTube account comes to life!
Purchasing followers from Zeru will make you more competitive as a brand and it'll give you that magic push that every business needs to succeed. It's useless to make posts on Facebook or Instagram or any of the social media platforms if no one is paying attention to what you've posted. If you have no followers, posting to social media is literally a waste of time. But, even if you have followers, it may be hard to get them to sit up and take notice of what you have to say. Brands have to be extremely competitive to get the attention of their followers because other brands are competing via social media for that attention too. So how do you get potential customers and followers to care about what you have to say? Zeru can help you solve this riddle.
Zeru is all about helping brands build a solid reputation on their social media platforms. We use a variety of tactics to make this happen and each client's needs are different. Our tools consist of the social currency that's so highly prized in digital marketing today: followers, views, shares, likes, and comments. If you don't have enough followers, we can help you build a following. If you don't have the level of page views that you need to be successful, we can give your brand a boost. If you need to get some social engagement going on some of your most important posts, we offer shares, likes, and comments at a reasonable price that will help you spur authentic engagement that will make your brand sing. Our company specializes in making social media work the way that its supposed to for new as well as old brands.
Social media marketing is supposed to allow brands to precisely target their market, which should, in theory make it much easier to turn a profit. And social media can be incredibly helpful, but in order to compete in a global market, you really need to have a secret weapon. That's where Zeru comes in. We have that secret weapon that will give your brand a positive reputation among members of your target market. Activate the bandwagon effect and buy likes and shares. Potential customers will see that your brand is popular and that it has a following that's engaged in what you have to say. This is the magic potion that you've been looking for to make your social media marketing finally do what it's supposed to do for your brand.
Digital marketing requires finesse and know-how and our experts have both! We provide unparalleled professional support, a no-contract business model, and a wide array of social media services to choose from. In other words, we're a one-stop shopping situation for brands that are ready to succeed through any of the major social media marketing platforms!
Why Us?
Most of our customers have already tried unsuccessfully to make their social media accounts work. It takes a tremendous amount of time and energy to build a brand's presence on Facebook, Instagram, Twitter, or YouTube. That's why big brands always buy likes and shares as well as followers and views. The big brands know that it's pointless to spin your wheels trying to build a strong presence if you don't already have a ton of followers who are actively engaged with your brand! Zeru takes the guesswork out of making your brand work on these social media platforms. And we make the process effortless too! Choose from a number of different packages to make your brand finally take shape in the social media sphere and enjoy the peace of mind that comes from experiencing success!
We customize all of our products to meet the customer's needs! Some of our customers need followers while others just need to build engagement and buy likes, shares, comments, and views. Your brand will certainly need specialized services and a specific package that will help you develop the image that your brand needs. We don't require you to sign any contracts so our services are hassle free. After you've successfully built your brand using our services, our work together will be over!
When you're ready to enjoy some success through social media channels, Zeru is here to help! We assist clients who come from a wide variety of different industries. It doesn't matter what brand you represent, we guarantee that our services will help you succeed at your goals! Zeru works to build your brand using special, no-fail social media tactics that will take the guesswork and stress out of digital marketing. We offer professional support and expertise to help you boost your follower base, increase engagement, and see the results you want to see quickly and without waiting. When you buy followers, likes, shares, comments, or views we offer the fastest delivery currently available. There's no need to wait! You've waited long enough! Contact Zeru today to get started on the road to success! Our team knows how to make your brand famous on social media.